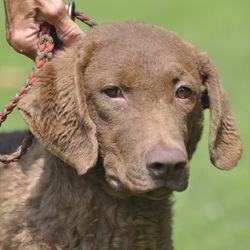 PH Captain's Tomahawk Strike
(GCH CH CAL-I-CO Captain's Nuclear Quantum Leap X CH Pond Hollow Montauk Point)


DOB: January 20, 2014


Strike is our newest and youngest Chessie. She is bold, bodacious, a little wild and very smart!


She is going through her basics at present and doing very well. We have high hopes for her as part of our Chessie Clan.
---