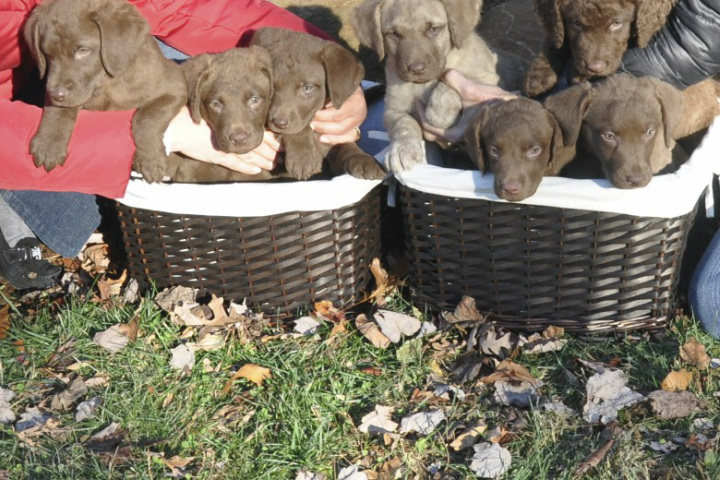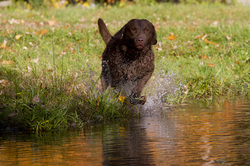 CH Colonial's Beckoning Fire

DOB: 4/03/2011
AKC: SR674177/01
Cerf: CB-377652, 12 2012
Hips: Good - CB10227
Elbows: NormaCBEL215
DM: Clear/Normal
EIC: Clear/Normal
PRA: Normal by parentage

Beckham is a very nice looking, healthy dog who has a great coat and good conformation.
He is a good natured young dog that is coming up fast, hard driving and has a good work ethic. He is showing very good signs in the field and has a lot of promise. Currently he is being trained for field/Hunt Test work and will be competing in the field soon.



---

CH U/Ch HRCH Cal-I-Co's Mtn. Island Morgen MH WDX RA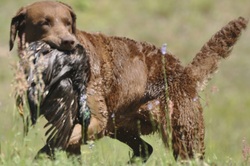 DOB: 7/31/2007
AKC: SR4403240
Cerf: CB-EYE22/64F-VPI (12/07/2012)
Hips: Excellent CB-9323E24F-VPI
Elbows: Normal CB-EL1820F45-VPI
DM: N/N Normal - Clear CB-DM61/13F-PI
EIC: Clear D11-053770
PRA:Normal 08-8327

Morgen is a beautiful Red Brown Chessie female, who is 24" in height, weighs 75 lbs. has a very good coat, good conformation and very nice disposition. Morgen was my first dog to train for field work and she accomplished so much in a short amount of time. Trained and handled by me, she earned her CH, HRCH, MH, RA by the time she was 3 1/2 years of age.



---

This litter should be DM & PRA clear, very tractable, conformationally very nice and good working dogs in the field. They should provide someone or a family with a very nice dog whether retrieving in the field, showing in the ring, doing agility, dock diving or hunting with a companion.
Puppies arrived October 6, 2013!
All puppies sold and going to really good homes!
Contact: Susan Dorsey at 704-307-7286 or
gordondorsey@me.com