CH Redlion's MTN Island Sandpiper SH QAA WDX WDQ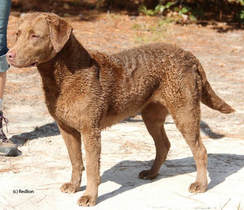 DOB: 4/23/2012
AKC: SR73076002
Cerf: CB-EYE23/42F-VPI, 1/12/2016
Hips: GOOD CB-10600G30F-VPI
Elbows: Normal CB-EL2468F30-VPI
DM: Heterozygous Carrier, 1 copy of mutation
EIC: Clear D11-053770
PRA: Carrier


OWNER TRAINED AND HANDLED !!
Piper is a great addition to the Mountain Island clan. She is co-0wned with JoAnn Colvin. She already has some experience in the ring at the Philadelphia Dog Show 2012 and she took her puppy class with her first blue ribbon.
Piper went through the yard work with a very positive attitude and runs very fast on marks, blinds. When she gets off the truck or out of the kennel she just wants to work!! We are training her for Derby and hoping we will be ready for the Chesapeake Field Trial Specialty in late October.
In the ring she just moves beautifully. She has been with me (Susan) and several different handlers in the ring and really does a nice job. Piper got her Championship May 24, 2015. Piper is just a love and has fit perfectly into our Chess family!


SIRE: Piper is doing a great job in her field training. She is fast, intense and eager
Redlion's Brutus of Bloodsworth JH to work. Piper earned a JAM at the Providence Qualifying stake 2017.
SR66669202(09/12) CH Redlion's MTN Island Sandpiper earned her 2nd at the 2017 ACC Field
Trial Specialty.
DAM: Very proud of her and her consistency in the Field.
Redlion's Notorious Wren QAA
SR44866105(11/11)

Breeder Jane Pappler & John Wiacek Owner: Susan Dorsey & Jo Ann Colvin




WE EXPECT PUPPIES SOON!!!!!!
​

view our puppies page!
---