Redlion's MTN Island Sandpiper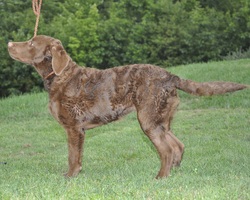 Piper is the most recent addition to the Mountain Island clan. She is co-0wned with JoAnn Colvin. She already has some experience in the ring at the Philadelphia Dog Show 2012 and she took her puppy class with her first blue ribbon.

Piper went through the yard work with a very positive attitude and runs very fast on marks, blinds. When she gets off the truck or out of the kennel she just wants to work!! We are training her for Derby and hoping we will be ready for the Chesapeake Field Trial Specialty in late October.

In the ring she just moves beautifully. She has been with me (Susan) and several different handlers in the ring and really does a nice job. She has accumulated a good number of points, but we are pursuing the field work and need to put off getting her Champion for a bit.

Piper is just a love and has fit perfectly into our Chessie family.

Piper is doing a great job in her field training. She is fast, intense and eager to work!
We are hoping to compete with her in Derby in the upcoming months.

On the show front::Piper has a good number of points in the ring and just needs her two majors. We will pick up that project when there is a break in field training.
---