GCH CAL-I-CO CAPTAIN'S NUCLEAR QUANTUM LEAP MH HR QAA "NUKE"

​First Place - Empire Retriever Club Field Trial (Qualifying) August 24, 2012 in Alabama, NY.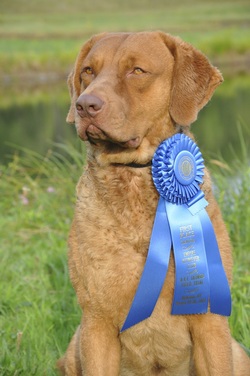 NUKE earned his Qualified All Age with his First Place on August 24, 2012 at the Empire Retriever Club Trial. Nuke was trained and handled by Renegade's Rick Millheim.

He also received a JAM in Derby at the Maryland Retriever Club and a JAM in Qualifying at the Westchester Retriever Club Trials.

DOB: 2/06/2010
Health Clearances:
HIPS: Good OFA CB-9939G24M-VPI;
Elbows: Normal OFA CB-EL1945M24-API
DM: Clear CB-DM1725/40M-VPI;
EIC: Clear; PRA: Carrier- Optigen 11-10161;
CERF: Excellent CB-360792(11),
​Cardiac: Normal CB-CA165/35M/C-VPI
​Long Coat Carrier

---
GCH CAL-I-CO CAPTAIN'S NUCLEAR QUANTUM LEAP QAA "NUKE"

(CH CAL-I-CO KISS THJE GIRLS X CH CAL-L-CO HOLLY BERRY)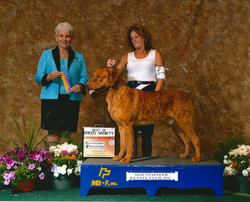 NUKE is a beautiful Sedge Chessie male with a wonderful personality!

He is 8 yrs old in February 2018 and is still a big puppy at heart. He received a Judges Award of Merit (JAM) in the Derby at the Maryland Retriever Club Field Trial last Fall and his Qualifying All Age (QAA) with a First Place at the Empire Retriever Club Trial while being trained and handled by Rick Millheim. I took him home
​and continue to run uppers stakes in the Field Trials.

Nuke is a large well constructed male and half brother to Morgen. He had a busy year in 2012 with quickly getting his CH, and at 2 1/2 yrs of age earning his QAA. Nuke and Susan will continue running in Field Trials and then AKC Hunt Tests. Nuke is a big handsome dog with a big heart and a real team player!
Nuke took a Best of Breed in Pennsylvania in June 2013. He also went on in 2013 to quickly get his conformation Grand Champion.

Nuke sired his first liter of pups in 2013 and several since).



---
Conformation Champion!! March 17, 2012 Delaware County Kennel Club, York, PA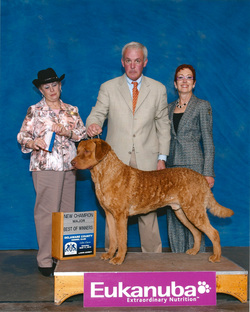 Nuke earned his Conformation CHampion on March 17, 2012 at the Delaware County Kennel Club show in York, PA. Owner handled all the way through both Majors and all the points but the one last point. Yes, a weak moment as Nuke was headed back to the "Field Trial Truck" with Rick Milheim, Renegade Retrievers and I wanted to ensure that he had the very best odds as both he and I are always in the field and seldom in the ring. With no formal show training, and few shows he proved that you can take a sturdy, beautiful, strong Chesapeake from the field (wipe off the mud and silver from the truck) and put him in the ring and do very well.
Nuke got his GCH soon thereafter.



---