GCH CH & HRCH CAL-I-CO's Mountain Island Morgen MH, WDX, RA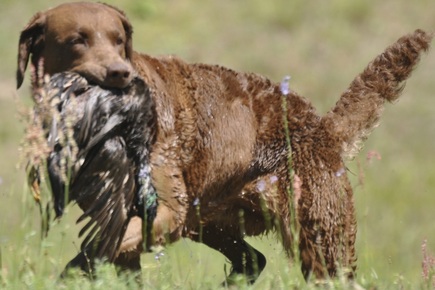 (HRCH CH CAL-I-CO Twist Of Fate X CH CAL-L-CO Holly Berry)
Morgen is my first dog to train and run in Hunt Tests (both HRC and AKC). She has a great sense of adventure, good work attitude, wonderful temperament, good team member and is extremely healthy (Hips Excellent, Elbows, Cerf, Cardiac and PRA Normal and DM clear.) We have had a wonderful time learning, training and competing to accomplish our goals!
Some of her accomplishments is that she somehow seemed to Track. Several times when training people would lose an article, glasses, leashes etc. and she would just naturally find it. A great trait that has served us well
She qualified for Master National in 2011. We did not finish but she ran well and we are very proud of her. She has done everything we asked of her
OWNER TRAINED AND HANDLED. Morgen earned a JAM in the Qual at the 2016 ACC FTS


As time goes by it is hard to see our once very good Morgen in the field slow down. She is still a beautiful companion who at ten years still wants to get a bird now and them, and tell the others in the Kennel that she is the boss.

---
American Kennel Club Titles
Master Hunter (MH) - qualified to attend Master National Hunt Test 2011
Rally Advanced (RA)

United Kennel Club Titles
Hunting Retriever Champion (HRCH)
Grand Champion and Champion (in the Show Ring)

Other designations
Working Dog Excellent (WDX WDQ)

Pedigree(CH CAL-I-CO Twist Of Fate X CH CAL-I-CO Holly Berry)